DW Clayfield - Groundwork & Construction
Have you been searching for a team of highly skilled and dependable general builders in Aylesbury, Hertfordshire, Wendover or the surrounding area? Have you been looking for the premier construction experts in Amersham and the surrounding area? If so, then get in touch with the DW Clayfield Groundwork and Construction.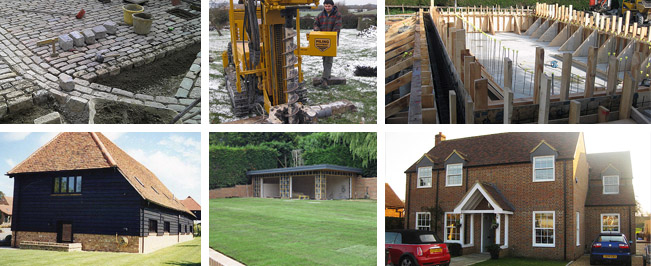 All images displayed on this website are photographs of our own work taken on-site. We do not display stock images on this website. Please contact us if you would like to know any more details about our projects.
The team here at DW Clayfield Groundwork and Construction are highly motivated and dedicated to delivering the very best in construction solutions for all your building needs. Our team of highly skilled tradesmen have well over 20 years experience in the industry.
Piling Experts in Bucks and Herts
DW Clayfield is a piling contractor and ground specialist based near Amersham and operate in the South East of England. The company's structure utilises many years of experience working with all sorts of difficult ground conditions to provide modern, innovative, economical foundation solutions for the construction, civil engineering and associated industries. DW Clayfield have a large range of modern equipment to carry out many different types of piling and foundations techniques including Secant piling and CFA piling.
Construction Experts in Aylesbury
Because of our experience and specialities, we are able to deliver the very best service in the local area and since we began in 1993, we have become the premier builders in Buckinghamshire and the surrounding area. Whether you are a domestic or commercial customer, you can be sure that DW Clayfield Groundwork and Construction have the skills and expertise to help.
Our comprehensive range of construction services are listed on the left, please navigate though our pages.
So whether you are in need of any groundwork and construction in Buckinghamshire or you are looking for the premier house builders in High Wycombe and Amersham, then DW Clayfield Groundwork and Construction are here for you. All of our time served tradesmen are fully qualified and insured. We are also a proud member of NHBC which is the standard setting body and leading home construction warranty and insurance provider for new and newly converted homes.