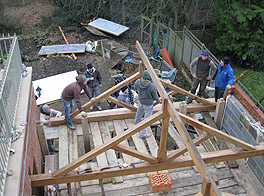 Green Oak Timber
Green Oak Timber Framing (Supplied & Fitted)
DW Clayfield can design and build your oak framed:

• Shed / Store
• Garage
• House
• Conservatory
• Barn

And many more designs...
Using our skilled tradesman and our own saw mill to size the timbers to suit. The photos here show some of the oak buildings we have created...