Landscaping and Turfing
The garden should be a place to be fully enjoyed by all the senses; Sight Smell Touch Taste and Sound. For this reason DW Clayfield offer an excellent lawn laying and landscaping service. Our well established company means a professional, efficient and friendly service.
We can supply and lay: Mulch, Woodchip, Decorative bark, Mushroom compost. We also specialise in soil removal (see our soil removal section).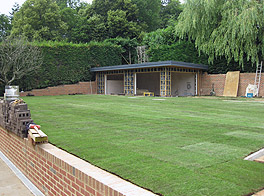 Landscaping and Turfing
In addition to Softscape, we can provide hardscape features and masonry work which include:

• Pavers
• Paving Stones
• Concrete (Stamped and Decorative Coloured)
• Brick
• Natural Stone (Flagstone and Sandstone)
• Custom Step Build
• Retaining Walls
• BBQ
• Outdoor Fire Pit
• Patios and Cobbling
We also install swimming pools and water features. Please contact us if you have any questions or if you would like a quote about some landscaping work.
Turfing
At DW Clayfield we pride ourselves on supplying vibrant green turf whatever the application! We turf domestic lawns as well as country estates.